The Vancouver Sun, September 5, 1997. Business Section, page E9
Mainframe takes computer animation to whole new world

GARY LAMPHIER
Sun Investment Reporter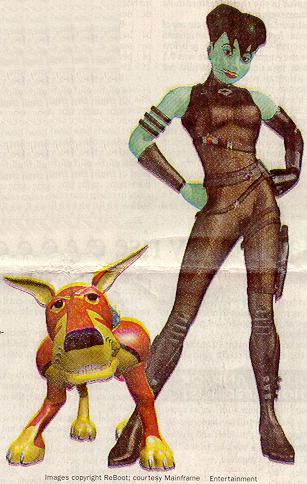 Los Angeles-based film and TV producer Chris Brough was among millions of visitors who first discovered Vancouver's natural beauty during Expo 86.
"We'd made this huge animatronic talking teddy bear, Teddy Ruxpin, for the California pavilion," he said in a recent interview. "So I was hanging around overseeing the installation and I fell in love with Vancouver, which is not very difficult to do."
Before long, Brough - whose 30-year run in the film and TV business includes stints at Tinseltown's Hanna Barbera Studios, DIC Studios and Alchemy II Productions - was making regular trips up the West Coast, recruiting local actors to do "voice-over" work for the animated characters in his TV series.
"As time passed, I was decreasingly inspired by Los Angeles and found myself thinking more of Vancouver."
Some time later, famed Muppets creator Jim Henson - a long-time friend of Brough's - arranged for him to meet British-born computer animation pioneer Ian Pearson in London.
Pearson's innovative work on rock videos (Dire Straits' Money For Nothing, Def Leppard's Let's Get Rocked), as well as commercials and feature films won Henson's admiration, and he sensed a potential business partnership might evolve out of the meeting.
He was correct.
Brough and Pearson hit it off, and in 1993, Mainframe Entertainment Inc. was born. Not in Los Angeles, London or Rome - where the partners briefly considered setting up shop - but in Vancouver.
Four years later, with Brough steering the ship as president and CEO and Pearson running the creative side as executive vice-president, production, Mainframe has grown into one of the world's most prolific producers of 3-D computer-anirnation programming.
In the process, analysts and industry players say it has helped put Vancouver on the map as one of the world's top animation centres, along with Los Angeles, London, Toronto and Montreal.

Mainframe's distinctive, highly-successful hit TV series, ReBoot and Beasties (known as Beast Wars, outside Canada) have won a string of critical awards and consistently rank among the most popular kids shows anywhere. They currently air in some 65 countries around the globe.

The company's full-time payroll has swelled from a handful of computer animators, modellers, editors and other staffers into a small army of more than 200 people, sprawled over several floors at Mainframe's unassuming Howe Street headquarters.

"Mainframe outputs more computer graphics than every other company in the world combined, right out of this buflding," said B.rough, looking a tad harried but otherwise tanned and relaxed during an interview in his office.

"When we first started fooling around with ReBoot, I don't believe see that 22 minutes of computer animation had ever been completed, so you could say it's been a little bit of a learning curve."

These days, Mainframe -which went public on the Toronto Stock Exchange in a $29.3-million initial public offering in June - is aggressively building on its TV successes by expanding simultaneously into computer games, so-called ride films, feature films, and even merchandising.

"If you study motion pictures and animation, obviously Disney is the first and last name you'll hear," said Brough. "The only way you're going to make a cohesive effort to compete with Disney is create a unilateral assault from a property standpoint, which means you launch toys, video games, interactive products, all of it at once to create a brand recognition, a kind of marketing beachhead against this machine called Disney.

"What we've created here can do that."

Mainframe's multi-track growth plan includes a new 32-bit computer game based on the ReBoot series, dubbed Countdown to Chaos, which is being produced in partnership with, the Burnaby studio of Electronic Arts the San Francisco-based computer game giant.

At the same time, Mainframe is working on two new ride films for Toronto-based Imax Corp., whose unique big-screen film technology is being used to create simulated-motion rides akin to the popular Back to the Future ride at Universal Studios, in Los Angeles.

Mainframe's first ride film, specifically designed for the Imax motion platform, is slated for release this fall.

Mainframe is also expanding its roster of TV series. It recently announced a pact with Playmates Interactive Entertainment and Shiny Entertainment to produce and distribute a new animated series based on MDK, which Mainframe describes as the top-selling PC video game in Europe. Release is expected by next fall.

The company is also exploring growth opportunities in the toy design market, using its in-house software and the unique talents of its 3-D modellers and animators to form partnerships with manufacturers.

"We can make toys in 36 hours from our data sets," said Brough. "We can basically cut the costs and the timeline from traditional toy companies by something like 50 per cent. We take a data set to create a show like ReBoot, and we can translate that in about a day and give you a 3-D image, something you can make a mold of, right down to the last bolt."

For Mainframe, the feature-film market offers potentially the biggest enchilada of all, however.

"We're never going to abandon television. It gives us a modestly profitable operation and it has built the infrastructure of a pretty big company," said Brough.

"But the next big step for us is motion pictures. Ride films are a stepping-stone, and to get involved with a company as well recognized as Imax is a big plus. To be able to put our stuff on screens that are eight stories tall is by definition a test, and there's no better advertisement than something that is 40 feet wide."

Mainframe recently produced a well-received three-minute test clip for a proposed feature-length 3-D animation film called The Sign of the Seahorse. The company optioned the film and TV rights for the project - based on a children's book of the same name by Australian author Graeme Base - in conjunction with Storyopolis, a U.S. entertainment firm owned by Paul Allen, the billionaire co-founder of Seattle-based software giant Microsoft Corp.

Mainframe's objective in the world of feature films is to duplicate the success of Richmond, Calif. -based Pixar Inc., whose 3-D computer animation film, Toy Story, ranked as one of the past year's biggest hits.

"The fact we're in active negotiations or active dialogue with three major studios to do very large motion pictures indicates a growing awareness that this is a very viable form of entertainment," said Brough.

He's come a long way since those days at Expo 86, babysitting Teddy Ruxpin the talking teddy bear at the California pavilion. Through it all, Brough says he has retained his love of Vancouver.

"The uniqueness of Vancouver draws an artistic element. It draws and encourages artists of all walks of life, particularly in the area of animation, to come here," he said. "Besides, I've had the joy of experiencing Los Angeles on fire for three days. I would point out that maybe that's not a cultural advantage you'd want to import."

-30-

[back]