Merchandising: Toys
---
21-Sep-2001 Figures.com has pictures of the action figures.
21-Sep-2000 Toy Mania has news about new action figures coming out in the year 2001.
20-Nov-99 SF Continuum selling ReBoot stuff
The Science Fiction Continuum (a store in New Jersey) has ReBoot merchandise.
1-Jan-98 - ReBoot toys are all sold out!
The home page for Irwin Toy in Canada has had a major overhaul. The last remaining page on ReBoot toys is not part of their main index any more.

1-Jul-99 - Some people have reported success looking for ReBoot merchandise on eBay.
---
In addition to Irwin Toy, there is "Canada Games Company Limited", who had made 100-piece jigsaw puzzles. Walmart (Canada) had 3 different sets: 1) Enzo, 2) Frisket, 3) Everybody.
9-Sep-96 A line of ReBoot action figures was been spotted in central Canada. This one has Hexadecimal dressed in black. ReBoot CD-ROMs hit Canadian stores in October, 1996. [And are now completely sold out.]

This is the access of this page.
From a member of the production crew (April 7, 1995):
The action figures and playsets will be coming out soon. There is stuff like a Hex head, where the face opens up and there's a little set with a jail or something inside (like Mighty Max). Besides the figures, there's the typical birthday decorations, Halloween costumes, underpants, etc. The figures will be made by Irwin. They're Canadian only so far and are going to try to break into the US with this toy line.
May 31, 1995 Irwin USA

From: Chuck Sakolsky - Irwin Toys

Scott Irwin asked that I fax you the names of the retailers who will he carrying the ReBoot figures. We will be shipping the 3" figures within a couple weeks, Followed by the 5-1/2 articulated figures with accessories in late July, and the micro playsets with mini-figures in August.

The figures and playsets will be carried at the following national and regional retailers:

	  * Toys-R-Us * Ames * Hills * Bradlees * Caldor *
	    * Target * Kay Bee Toys * K-mart * Wal-Mart *
	    * Clover * Family Toy Centers * FAO Schwarz *

These are the major accounts. There will be literally hundreds of others, mainly comic book retailers, action figure dealers, and lots of independent toy retailers.

Irwin USA
  Chuck Sakolsky - Toy Sales to Retailers
  555 South Federal Highway, Suite 330
  Boca Raton, FL 33432
  Phone: (407)347-1043 or (800)399-1043
  Fax:   (407)347-0846
  E-mail: FPYS53A@prodigy.com (MR CHARLES SAKOLSKY)

Irwin Toy Limited
  43 Hanna Avenue, Toronto, Ontario M6K 1X6, Canada
  Phone: (416)533-3521 or (800)268-1733
  Fax:   (416)533-3257  
  E-mail: irwin@irwin-toy.com or irwin@inforamp.net

  Scott Irwin - New Toy Product Development - Advertising (ext 4502)
  Peter Irwin - International Toy Sales and Licensing
  Paul Waxman - Product Manager 
  Debbie Brown - Publicity

June 2, 1995 Irwin Toronto
From: Paul Waxman

From deep inside the world of Mainframe comes REBOOT. Join Bob as he teams up with his friends Dot and Enzo battling the evil forces of Megabyte and his disciples of doom, Hack and Slash. And help this triumphant threesome overcome the cunning and beautiful Hexadecimal, another virus trying to destroy the peace of Mainframe. But beware, because at any moment a game may be dropped into a sector, raising yet another challenge for the heroes of Mainframe to defeat.
See also the Irwin Toy checklist.
It has part numbers for the individual toys.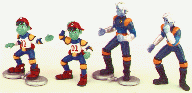 30000 - Colorful 3-inch Figures (set of 12)
The whole Reboot world in your hands. Bob standing, Bob on Zip Board. Enzo standing, Enzo on Zip Board. Frisket, Dot, Phong and Hexadecimal. Hack, Slash, Megabyte standing, Megabyte with weapon.
Available- June 1995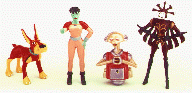 (See note about misprinted Bob cards.)
30001 - 5.5-inch Poseable Action Figures (set of 7)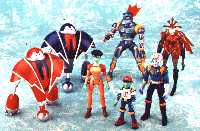 Each figure comes with a collectible 'Slammer Disc'. Assortment includes - Bob with Glitch; Enzo with Articulated Zip Board; Megabyte with Moving Jaw and Horrible Extendible Claws; Hexadecimal with Four Changeable Faces; Dot with her Maitre'd Cecil; Hack with Popping Head and Limbs, Slash with Popping Head and Limbs.
Ages- 4+
Available- July 1995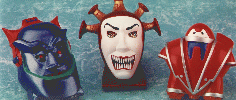 30002 - Micro Playsets (set of 3)
Ages- 4+
Available- August 1995

Megabyte's Throne Room

Open Megabyte's Laboratory with the hologramed game cube key. Inside Megabyte sits on top of his throne. Shoot a collectible 'Delete Disc' at Megabyte. Hit him and release Dot, who is trapped in the dungeon underneath Megabyte's Throne. Have Bob rescue Dot from the deadly nulls inside. The disc shooter connects to the playset so it can fire at other playsets. Comes with 3 painted figurines and null pile.

Hexadecimal's Lair
Open Hex's lair with the hologramed computer cube key. Inside, Hex sits on her throne atop a firing disc shooter. Hex can fire at Bob or you can remove the disc shooter and fire at Hex. Free Enzo who's trapped by Hex's razor sharp teeth before dangerous nulls get at him. Includes play environment, 3 painted figurines, null pile, disc shooter with collectible 'Delete Disc' and game cube key.

Hack and Slash Vehicle Bay

Open the Vehicle Bay with the hologrammed computer game cube key. Inside Hack's ABC Vehicle moves ahead and fires a collectible 'Delete Disc'. Playset comes with moveable "SPIKED" wall, upper holding cell, moveable weapons, control tower with gangway and other features. Contains play environment, 4 painted figures, ABC Vehicle with disc shooter, game cube key.

30004 - Bob's V262 Turbo Drophead Car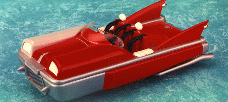 Bob is incessantly working on this "beauty" so it will be ready to ditch Megabyte and his cohorts. The trunk opens up and contains a Zip Board Launcher. One Zip Board is included. A shooter is attached to the front hood of the car firing a collectible 'Delete Disc'. The vehicles spring suspension creates a unique and realistic "hovering" action.


new - White Bob Special Edition
There is a new version of the 5.5-inch Bob figure out. It has not been widely distributed, so keep a lookout for it.

When a toy store receives a shipment, approximately one carton in 10 has the Collector's Edition Bob.

Note to collectors: The first batch of 3-inch Bob figures had a misprint on the packaging. In the process of converting Bob's image from SoftImage format to Adobe Photoshop to hardcopy, the colors got messed up. Bob's face is a nice light blue on the TV show and on the action figure, but the first printing of the card that holds the toy came out with a noticably purple shade. This mistake was corrected on later print runs - not many exist.
August 7, 1995

From: FPYS53A@prodigy.com (Charles Sakolsky)
Newsgroups: alt.tv.reboot
Subject: Re: Reboot toys/figures
Date: 7 Aug 1995 00:12:30 GMT

The 5-1/2" figures are just getting into distribution now, starting mainly on the west coast. Within a week or so, you'll be able to find them in Toys R Us, Kay Bee, Puzzle Zoo, Toy Town, some K-marts, and several other retailers in California.

By late August or early September we will ship to the other parts of the country. They will be available in all the above chains plus Ames, Bradlees, Caldor, FAO Schwarz, Family Toy Centers, Hills, Target, Venture, Wal-Mart, Army Air Force Post Exchanges, as well as other toy and comic book retailers.

The Micro Play Sets will be available in September, and Bob's V262 Turbo Drophead Car will be in very limited distribution in October, and may be hard to find.

The 3" figures are in all the above retailers in most of their locations. If you don't see them, ask the toy manager; he may have them in the back room. Sales have been very strong and some stores can't restock quickly enough.

If your local dealer doesn't currently have ReBoot on order, ask him or her to contact our National Sales Office at 1-800/399-1043 for ordering information. Sorry, we do not sell directly to consumers.

Thanks for asking.
Chuck Sakolsky
Irwin Toys
---
irwin@inforamp.net
Selected press releases from Irwin Toy in Canada.
July 7, 1995
From irwin@inforamp.net

The Irwin Toy Home Page is now on-line.
The URL for the Reboot Toys is www.irwin-toy.com/products/reboot.htm

January 19, 1995
Alliance Communications Corporation, on behalf of Mainframe Joint Venture, and Irwin Toy Limited have reached an agreement whereby Mainframe has granted Irwin the license to manufacture and distribute certain toys based on ReBoot, the animated television program, in both Canada and in the United States.
April 28, 1995
Irwin Toy and ReBoot merge to create Terminally Cool action figures.

Irwin Toy has taken the characters from this hugely successful television program and created a line of action figures, vehicles and mini-playsets. The ReBoot line includes 3" figures which will be available in June (assortment of 12). The 5-1/2" action figures (available for Fall delivery) are fully poseable and each figure is accessorised. Also available for Fall delivery is Bob's V262 Drophead Car featuring spring suspension, realistic engine sound and a Zip Board launcher. Three assorted mini-playsets complete the line - Megabyte's Throne Room, Hexadecimal's Lair and Hack and Slash Vehicle Bay.
---




page 103 of 129


Maintained by Joe Smith