Joe Smith: I love my TiVo
---
This is the 24,688th access of this page
TiVo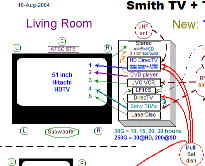 Marital bliss is His & Hers TiVo units. It's the only realistic way to keep Wishlists and Thumbs-Up data separate.

Previous setup diagrams: 2001 2003 2004 2006 2007 2010 2014 2017 2018

Disk sizes
Discussion on Disk Sizes; an 80 billion byte disk holds 74.5 gigabytes.
Copy tystream to RAID on Linux
To guard against the case where my TiVo's hard disk goes out again, I copy some of the recordings to another Linux box that has 250 GB of disks in RAID-1.

cd ~/joe-tivo; perl ~/bin/from-tivo joe-tivo:3105 'TOON|G4TTV'

TiVo headquarters in Alviso (north San Jose, California).





The first two pictures are from when when TiVo hits 1 million subscribers (December 2003), the next two from from November 2005.
Request for enhancements
Software additions I would like to see added:
Ability to store Preferences/Wishlists/SeasonPasses off-site for safekeeping.
Multiple bookmarks per show, for multiple viewers in household.
User-defined flags in Now Playing (indicating "I've finished watching this show; you can delete it now" and "here's something interesting for you to see").
Add a subtle mark in Now Playing to indicate which shows have bookmarks.
Ability to record contents of buffer at all times, including when a new show has already started. (When viewing buffer 30 minutes delayed at 10:15, I want to record the 9:45 to 10:00 portion of show in buffer even though a new show started at 10:00. In this case, Record Buffer would create two enties in Now Showing.)
Upcoming Episodes screen should automatically detect and display conflicts.
A way to tell TiVo that a given recording is defective (or was pre-empted) and therefore needs to be purged from the 28-day list, and rerecorded ASAP.
"The Daily Show" - record one episode per day regardless of the lack of guide data. Could be done by TiVo headquarters by postprocessing known-to-be-bad data from TMS.
Auto-pad recordings when no conflicts. Minutes, or 30 or 90 seconds.
Ability to jump to show by name in Season Pass Manager.
Redundancy built-in for two-disk units. (I've had two IDE disks go out on me already).

Periodic backup: Once a day the non-MFS partitions on the A drive get copied over to the B drive. Boot PROMS modified to boot off of the B drive if the A drive is unreadable. (Unwatched shows on the A drive would be irretrievable in this case, but the To Do List would still be functional.)
RAID-1: Both MFS and non-MFS partitions are mirrored. Full protection against disk failure, at the expense of having only half the capacity.
Ability to switch from Mirrored to Backed-Up at any time.
Ability to switch from Backed-Up to Mirrored when space available.
More suggestions: Megazone's Request For Enhancements.
---
Back to the Joe's page. Hidden files. Maintained by joe@inwap.com