Chez INWAP Home Page - INWAP.COM - Fremont, California
---
Howdy! You are the 9,118th person to access our home page.
Welcome to Chez INWAP


That's Joe and Sally on the left, and our friends John and Chris on the right.

See also our common interests and friends on the net.

Have you read today's User Friendly comic strip?




Naomi as a kitten. Naomi now.
Outdoor cats, kittens: one two three four.
New kitten George: one two, three movies.

Previous cat: Murdock.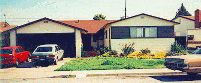 Our house in Fremont, California, in the San Francisco Bay Area, with a hot tub in the back yard (Web Cam).



Questions and Answers, and the history of Chez INWAP.

---
Back to the top-level index for INWAP.COM